Posted on March 12, 2014 in Racquets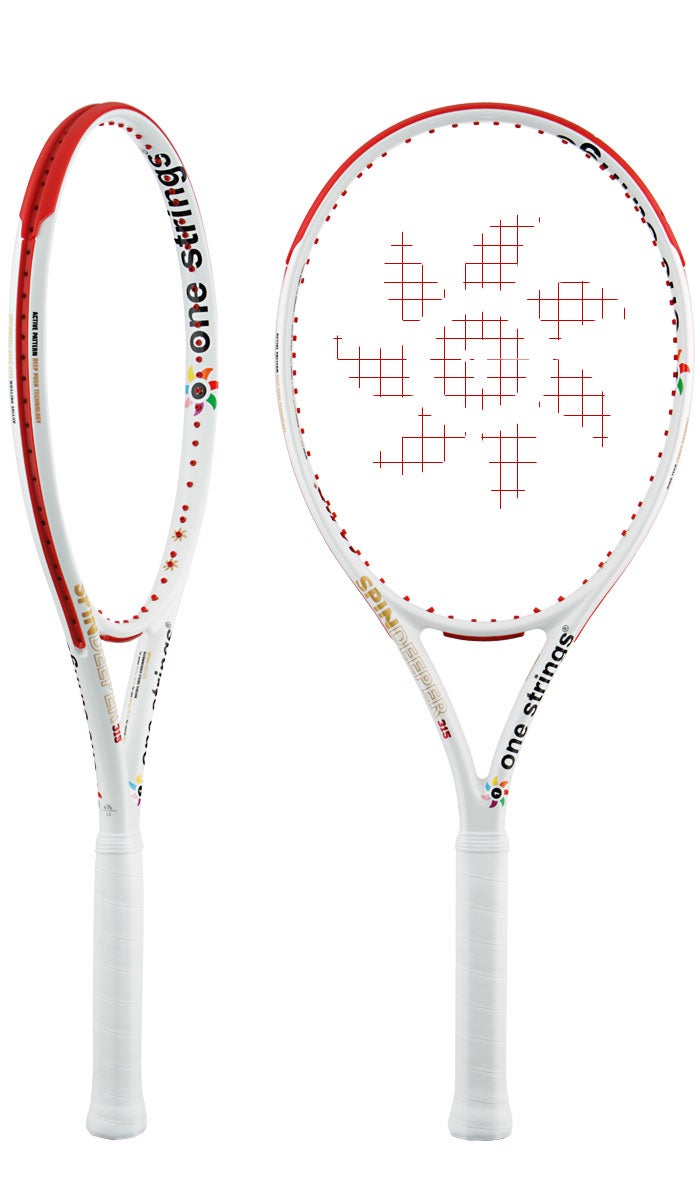 It seems like all the racquet brands are telling me that spin is in. It's time to add our newest racquet brand to the list. One Strings has a couple of racquets called Spin Deeper, and they feature a 14×19 string pattern.
Because I tend to hit flatter, I haven't quite found my spin racquet companion, but that hasn't stopped me from trying all sorts. I've been testing the Spin Deeper 300, although it is offered in a heavier 315g version as well. As with most spiny racquets, this one took my flat strokes and I a bit of an adjustment period, but I'm glad I stuck out the hour or so of misfires.
I am certainly spinning the ball deeper as the racquet name suggests, and I'm really enjoying the easy response of this one. The 14×19 string pattern isn't as wide open as Wilson Spin Effect racquets so the spin hasn't been quite as extreme, but it's more than enough for me. What I'm noticing more than spin from the string pattern, however, is its responsiveness. The ball just flies off the stringbed. That's helped me to hit a deeper shot with more spin and pace when pushed back deep off the baseline.
Posted on February 26, 2014 in Shoes and Apparel
I know, I know. Why would I pick a tank top as my Playtester Pick of the Week? What could be so special about a t-shirt? Well my friend, this isn't just an ordinary tank top. No siree!
For starters, it's a polyester shirt, so it's super lightweight and wicks away moisture extremely well. Perfect for exercising in. Don't just wear on the tennis court, take it to the gym to workout in too!
Though what makes this polyester top different is that it feels soft like a cotton top — it's functional and comfortable. I should also mention that when I say comfortable, I'm not just talking about the softness of the material either. How it fits will have you feeling relaxed as ever. The shirt is long and loose at the waist, so no matter what your body type is, it'll have a flattering fit.
Posted on February 20, 2014 in Strings
It's not every day that a string comes along with the comfort of Tecnifibre NRG2, Babolat Xcel and Wilson NXT. Optimus, a new multifilament from Wilson, is just such a string. Constructed with an army of shock absorbing filaments, we think it will lighten the load on your tendons as well as any multi on the market.
But that's not the whole story. Unlike some multifilaments that are mushy and come with an unruly "trampoline effect", we found that Optimus, when tensioned correctly, had a wonderful crispness along with above average control for the breed. This somewhat unique response is partly due to a thermoset co-polymer membrane, which firms up the filaments in the core and slightly tempers this string's elasticity. Granted, advanced big hitters and string breakers will likely not find enough durability and "snapback" with Optimus (in a full bed), but we think this unique multifilament is a strong option for the non-poly player who wants a great blend of comfort and controllable power.