Posted on December 17, 2013 in Shoes and Apparel
We are down to single digit shopping days left until Christmas, and if you're like me you've still got some friends and family left on your list to shop for. Here are some great last minute gift ideas for your tennis-loving loved ones:
Looking for a new racquet? The Babolat AeroPro Drive GT is an excellent, all-around performing racquet that could be used by virtually any level and style of player. The former racquet of choice for world #1 Rafael Nadal, this 2010 version offers a crisp, lively feel, perfect for the modern game.
Posted on October 24, 2012 in Racquets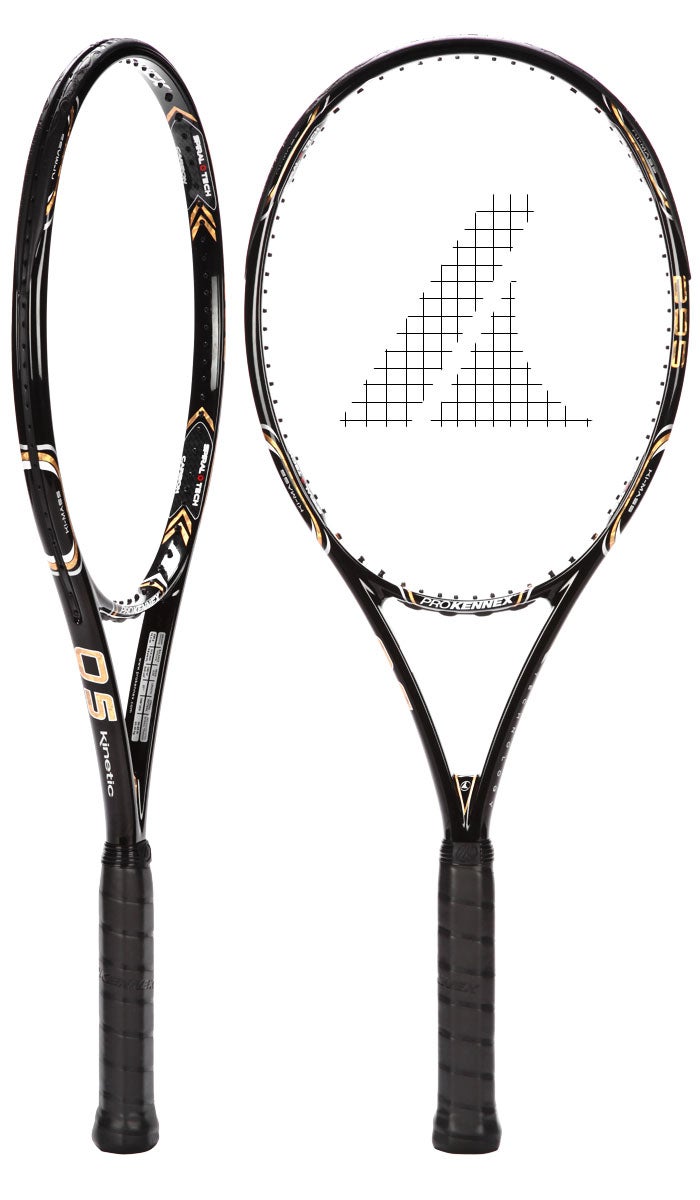 ProKennex might not be one of the biggest names in tennis racquets these days, but there are plenty of fans of its arm-friendly racquets. Count me among them.
I've long been a fan of ProKennex, going back to my high school days when I swung the heritage edition of the Silver Ace. I'm always excited when a new offering comes into the office. I liked the Black Ace 98, and although I think it swings much more easily than it's 11.7 ounce strung weight might suggest, it's still too much racquet for me. So when the new Q5 racquets arrived I was more than happy to pick them up and take them out for a hit.
I started with the 315g version, but as one would guess, it is also a little bit too much racquet for me to handle consistently. I put that one down and began playing with the 295g version. This is right up my alley, and I've been hogging our sample racquet since that day.
At 11 ounces strung with a slightly head light balance, this one swings just right for me. I can whip it around when needed, and it comes through with the power of something like two of my favorites, the Babolat Pure Drive and Donnay Formula 100.
Like the Formula 100, the Q5 295g offers a more arm friendly feel compared to many similar, competing racquets. ProKennex has made a name for itself with its Kinetic technology, saving the arm of many a tennis player. In the Q series, the racquets feature Quad Kinetic technology, placing the Kinetic technology at the corners of the racquet. According to ProKennex, segmenting the Kinetic housing in the four locations optimizes the power of the racquet and the arm-friendly benefits of Kinetic.
I've been playing with the Q5 quite a bit when not testing racquets or strings, and it's quickly becoming one of my go-to racquets. On groundstrokes, I am definitely noticing a bigger punch on my shots. It's especially noticeable on my forehand, where I struggle to create as much pace on my own. At net, I like the feel. It's crisp when hit cleanly, allowing me to place the ball (or as well as I can up there!), but it's not jarring on off-center hits (bonus, since I do this a lot at net). Probably what's best for me is that I feel confident with this racquet in my hands, and confidence always help on court. I've been hitting this with a crisp multi at 59 lbs, but I'm ready to turn to our string guru, Jon, to see what other ideas he might have up his sleeve.
If the Q5 295g sounds like a racquet for you, you can demo one today!
Happy Hitting!
Tiffani, TW
Posted on October 10, 2012 in Racquets
If heading to the shops is any indication, the holidays are just around the corner. Pick up some lights and ornaments, right next to your Halloween candy! Why bring up yuletide cheer, you ask? Well, now is as good a time as any to get a jump on holiday shopping with a little present for yourself!
With the release of the 2.0 versions, Head has dropped the price of the original YOUTEK IG Extreme racquets to $99 (originally $190). The Extreme racquets are easy to spot. Their bright yellow paint pops from a distance. And off the ground? Well, the racquet offers plenty of pop off the stringbed, too. To control that power, spin is easily accessed with all versions of the IG Extreme. Here's a snapshot of the three IG Extreme models that are on sale:
This midplus racquet is best suited to intermediate to advanced level players. At just over 11 ounces strung, this one is easy to swing and create loads of spin off the baseline. With its mobile feel, the Extreme MP is equally suited to those who like to attack the net.
The model used by WTA pro Svetlana Kuznetsova, the Extreme Pro offers the stability and feel that suits players from the intermediate level all the way to the pro ranks. It weighs in at 11.7 ounces strung, resulting in a solid, stable feel and easier mobility than many other player's racquets. This mobile feel translates into an extremely spin friendly response — great for today's aggressive baseline players.
Intermediate level players who want all that spin of the Midplus and Pro but want more power and more forgiveness should check out this oversize offering. The 107 square inch headsize provides an ample sweetspot, and the 10.5 ounces strung weight is easier to handle. The Innegra technology steps in to help give this lightweight racquet comfortable and stable.
If you like to test drive before you buy, check out a demo. We still have all three models available for demo, and remember, you only pay for shipping on demos — the week-long trial is otherwise free!
Click to demo the IG Extreme MP.
Click to demo the IG Extreme Pro.
Click to demo the IG Extreme OS.
Happy hitting (and saving)!
Tiffani, TW