Posted on February 14, 2013 in Bags Miscellaneous
The Tecnifibre Pro ATP Tennis Bag Series is a new bag option from Tecnifibre offering four sizes of bags for any active player. The slick black cosmetics of these bags make them visually appealing, and the attention to detail that Tecnifibre used when making these ensures that they are durable and will stand up to any conditions. Made of Tarpaulin, the material is unbreakable, waterproof and has been designed to stand up to the heaviest of conditions that ATP Tour players face day in and day out.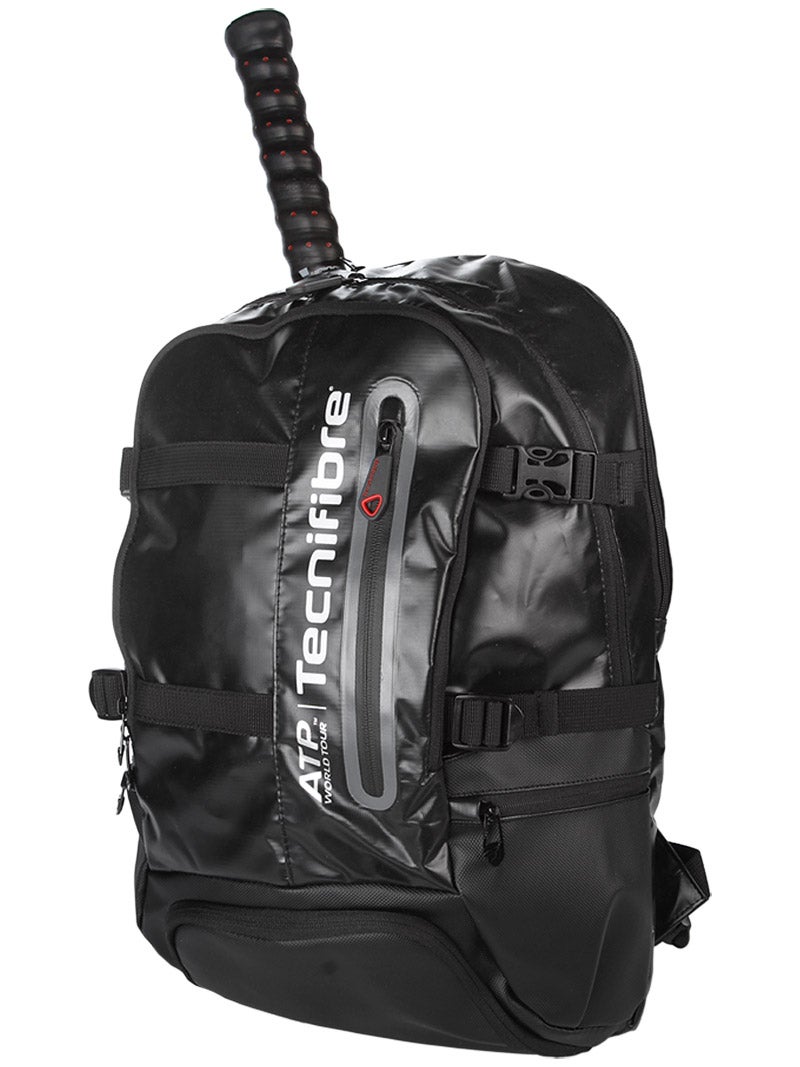 Posted on July 18, 2012 in Miscellaneous Racquets
A story of tail-weighting a racquet
At the BNP Paribas Open in Indian Wells this year I was talking to Tecnifibre's Guillaume Ducruet about the racquet specs used by the pros. We were watching Tecnifibre's Janko Tipseravic practice at the time and Guillaume mentioned how his racquet was heavy but very head light.
In other words, Tipseravic's racquet is what we call tail-weighted. The reason is a good one: Never before has racquet tip speed been so important in pro tennis. Today's players are hitting with monster spin. Guillaume mentioned that players are tail-weighting their racquets so they still have some mass to swing without sacrificing maneuverability. The simple fact is, the faster one can swing, the faster one can spin the ball.
A heavy racquet with a light swingweight is like having the tail wag the dog. All the weight is under the player's hand allowing him/her to whip the tip of the racquet through contact with maximum racquet head speed.
As I was talking to Guillaume, I couldn't help but think of a customized racquet I had been hitting and really enjoying back at TW. I had taken an old Estusa Power Beam Braided — a very head light racquet in stock form — and built up the grip to a suitable size. In doing so I had made the racquet extremely head light. I added some lead tape to the 10 & 2 o'clock positions of the hoop to try to even things out, but the final spec was a 13-ounce racquet with a swingweight of only 313 RDC.
How did it feel on court? Amazing! Everyone who has hit the customized Estusa has loved it. Delivering punch like a heavy racquet, but feeling fast like a light racquet, the customized Power Beam Braided is a blast to hit. Strung up with a grippy co-poly, the spin potential is off the charts.
I immediately loved the racquet and wanted to play with nothing else. The only issue was, I only had one racquet. I like to have at least two racquets in my bag in case a string breaks during a match so I set out to find another one.
A quick search discovered the going rate for a new-old-stock Power Beam Braided was close to double the price of a current racquet. Not good. However, from my disappointing discovery an idea was born! What if I could take an affordable racquet from our Sale Racquets page and match the spec of the customized Estusa.
All I needed was a racquet with a low swingweight, an even lower price and I would let some lead tape take care of the rest.
Racquets don't get much more affordable than the Volkl Power Bridge 5. Most also don't get quite as funky. The PB 5's distinctive Power Arm throat design makes it an unlikely choice for a player's racquet, but in my opinion it only ups the ante of the challenge. The headsize and beam thickness were completely wrong, too, but at least the stock swingweight was very low. The idea of taking something not initially meant for the advanced player and turning it into a racquet which is the perfect fit seemed illogical. Actually, it seemed perfectly illogical. With that in mind, I decided to dismiss the illogical part, leaving me with just the word perfect. Decision made!
With a roll of lead tape in hand, I removed the stock grip and covered the entire handle pallet in lead — wrapping it from butt cap to shaft just like I was applying a replacement grip. Now, to do this properly (and permanently) I would have removed the butt cap and stuffed the handle cavity with lead weights (fishing weights work well) and packed it in cotton wool to stop the weights from rattling around. However, I was getting ready to hit and I didn't have the time to go full on with my customization.
Next I wrapped a fairly weighty replacement grip over the lead to further increase the weight at the handle. I used Wilson's Shockshield grip because it has a heavy shock absorbing material in it and it just so happens we have it on sale! With all this money I was saving, I could buy even more lead tape (my mind raced with the possibilities of random things I use in life that could be weighted up. Where would the weight customization end?)
With the grip installed, the racquet felt a tad light in my hand. I swung it around the web editing office a little bit, and no one was ducking for cover or even looking remotely fear stricken. Obviously, I needed to add some weight to the head to add a little plow through. Four thee-inch strips of lead tape at the 10 & 2 o'clock positions of the hoop did the trick, making the racquet feel like it had some mass on the swing while still having a fast and very maneuverable feel. The resulting spec turned out to be: Strung weight: 12.6oz, balance:  12 points head light, swingweight: 314 (RDC)
All of this customization and a quick restring with one of my favorite co-polys had swallowed up all the time I had before my scheduled hit, and I looked over to see a suited up and impatient Brittany ready to head to the courts. With great anticipation I threw on my tennis gear, eager to see how this customized PB 5 would play. Would it be able to handle the heavy hitting Britt? (Britt, AKA the Beast and The Backhand, here at TW. Perhaps the Backhand Beast would be a good combination of the two nicknames, except her forehand is very good, too)
From the first hit (even against the Beast) I knew I had succeeded. The racquet felt amazingly solid, yet it came around quickly and allowed me to find lots of spin. The PB 5 had gone from a lightweight 'tweener racquet to feeling like it was dialed in for an advanced player. Here at TW, we are fortunate to occasionally get to hit with racquets customized for various pro players, and this racquet now had that pro prepared feel to it.
On groundstrokes the racquet pushed the ball with depth and weight. I was hitting a heavy ball with lots of pace and spin while finding great control. On every hit I was loving the way the racquet came through contact on my slice backhand. I was knifing my backhand with lots of pace and spin. The result was a low and fast skidding slice that (thankfully for me) was taking some of the bite out of the Beast's backhand.
At net, the ball was pancaking nicely on the strings. Simply too massive to get pushed back by the ball, in combination with the still strings, I could feel the ball flattening on the stringbed. The result was every volley snapped off the strings with lots of pace, penetration and accuracy. Simply put, this was now a point and shoot weapon at net.
Now all was not perfect on my first hit. Although the racquet felt very good, it did not feel quite as fast and snappy as the Estusa. I put the slightly more sluggish feeling down to the increased headsize and a slightly higher swingweight. Moving the lead tape from 10 & 2 to 3 & 9 solved the issue and made the racquet feel perfectly balanced.
Since experimenting with tail weighting on the PB 5, I've continued the trend to other racquets. The Slazenger Pro Braided is a great candidate as it starts off as a lighter player's racquet. Having a stock swingweight of 330 (RDC) I find I only need to add weight to the handle of the Pro Braided and just leave the head of the racquet stock. Other great tail weight candidates include the Babolat Pure Drives and AeroPro Drives, the 300 series of Dunlop Biomimetics, Head Youtek IG Radical Midplus (and Oversize if you like a larger hoop), Mantis Tour 305 and 315, Volkl Organix 10 295 and the Tecnifibre TFight 295 to name but a few!
Basically, any racquet with a manageable swingweight will do. For instance, if you can swing your current racquet easily, but would like to add some pop and plow through, you can get there by heavily tail weighting without sacrificing maneuverability. The big thing for me is adding power and stability through weight, but getting that in a light and very spin-friendly racquet.
The concept is far from new, but perhaps forgotten by some. Back in the days of wooden racquets, all the weight was in the handle as the racquets tapered from the handle to the tip, making the tip of the racquet light and flexible, and the handle heavy and solid. I have a couple of wood racquets close to 14-ounces, and they are surprisingly maneuverable due to the majority of the weight being in the handle and the fact that the head is small and aerodynamic (as is the mono shaft design of the class wooden racquet). Today's graphite racquets allow us to copy the balance of wood racquets, but keep the upper hoop firmer thanks to the stiffer materials and beam designs.
I apologize for such a long blog! But I do hope you have fun tail-weighting to see if it's right for you.
If you made it this far, thanks for reading!
Chris, TW.
Posted on May 16, 2012 in Miscellaneous Strings
Whew, we're only halfway through this week, and there's a slew of new products that went up in just the past three days. We get so much new stuff, it's hard to keep track, so here's a quick look at what's new so far this week.
Tecnifibre bags are typically built to please. If you want features and high quality materials, check out the new Tour VO2 Max bags. We currently have them in a 12 pack, 9 pack, 6 pack and backpack. What's not to love about the bags' sleek black color with patent accents? It hides dirt and doesn't clash with anything. As always be sure to check out the additional views for different angles and pictures of various pockets. Siobhan has also done a product video on the bags so you can get an even better idea about their size and function. When they're ready, you'll see the video button link below the product descriptions.
Good socks are a must if you're a tennis player. Good socks can help prevent blisters, keep your feet dry and provide comfort. Good socks also last. Drymax socks are some of the best court specific socks. Seamless toes, targeted venting, arch support…the list of features goes on and on. One of the most important aspects of DryMax socks? They fit. We carry four different sizes so you'll get the best fit for your feet. No one size fits all here. What's new is that we now have them in black for crews and low-cut styles. With all the black shoe models on the market today, performance black socks are a must.
The Zo line from Gamma keeps on growing! Zo Dart is a new co-poly string designed to please the big hitters. Always looking to improve strings, Gamma is using special additives that help soften up the polyester string but adds six stiffer polyester monofilaments in the core to maintain control. Zo Dart is available in black and white as well as two gauges, 16 and 17. If you try it and love it, there is a multi-set deal of buy 6 and the price drops to $12.46 per set.
Big hitters and string breakers, rejoice! Here's another option for you. Affordable at $79 for a 660-foot reel, Poly Code is also all about durability. Don't look for fancy shapes or twists here. This is a traditional feeling poly that offers ultimate control and a crisp feel. Big hitters can swing away. Available only in reel form and in black, Poly Code comes in two gauges 17 (1.25mm) and 16 (1.30mm).
Another great value, Tecnifibre's synthetic gut reels are now available in black and are only $34.95 for 660 feet of string. Tecnifibre's synthetic gut also features an abrasion resistant coating for added durability. Find it in 16 and 17 gauges.
The juniors can hit the courts with some Lotto kicks, too. Already available in men's and women's sizing, the Ultra III junior has some of the same technologies. Syn-Pulse has been around in Lotto shoes for a while, but it's still around because it works. Syn-Pulse is a lightweight, responsive cushioning system that's visible in the heel. New is the ReactiveArch technology. The shoe's sole is concave and flexes as you run. As it flattens out, you get better stability. As you lift your foot, it returns to the concave shape and offers you better energy return from your stride.
So that's it, three days into the week and there's already a lot of new gear to check out. Keep checking the blog page for more updates of what's new at the warehouse.
Happy Hitting,
Tiffani, TW