Posted on December 26, 2012 in Racquets
It's time to say goodbye to another year and time to say hello to all the year-end "Best of" lists. So not to be outdone, we're rolling out our list of Best of 2012 product lists. Once again the playtesters put on their thinking caps to come up with these favorites. We would love to hear yours, too. To kick off the countdown to 2013, we have our 2012 favorite racquets. For a flashback, check out the list of 2011's top racquets.
AeroPro Drive GT 2013
This may have 2013 in the name, but by our rules, if it sold in 2012, it's eligible. The new AeroPro Drive GT must be quite the impressive racquet to make the list of not one but two of our strongest playtesters, and it's only been out for a month or so.
Siobhan: "Racquet of choice right now – I only spent the whole year waiting for it! It feels similar to the previous Aero, and the current Pure Drive, but the feel and response is just improved. I like stiff racquets, which this one is, and combined with power, spin and great control. This racquet just really suits my game and it's probably the only racquet I feel truly comfortable playing with right now."
Andy: "Power, access to spin, maneuverable, stable…this racquet has a lot to offer. And with the Active Cortex introduced to the frame, it's the most comfortable AeroPro Drive yet."
Posted on October 24, 2012 in Racquets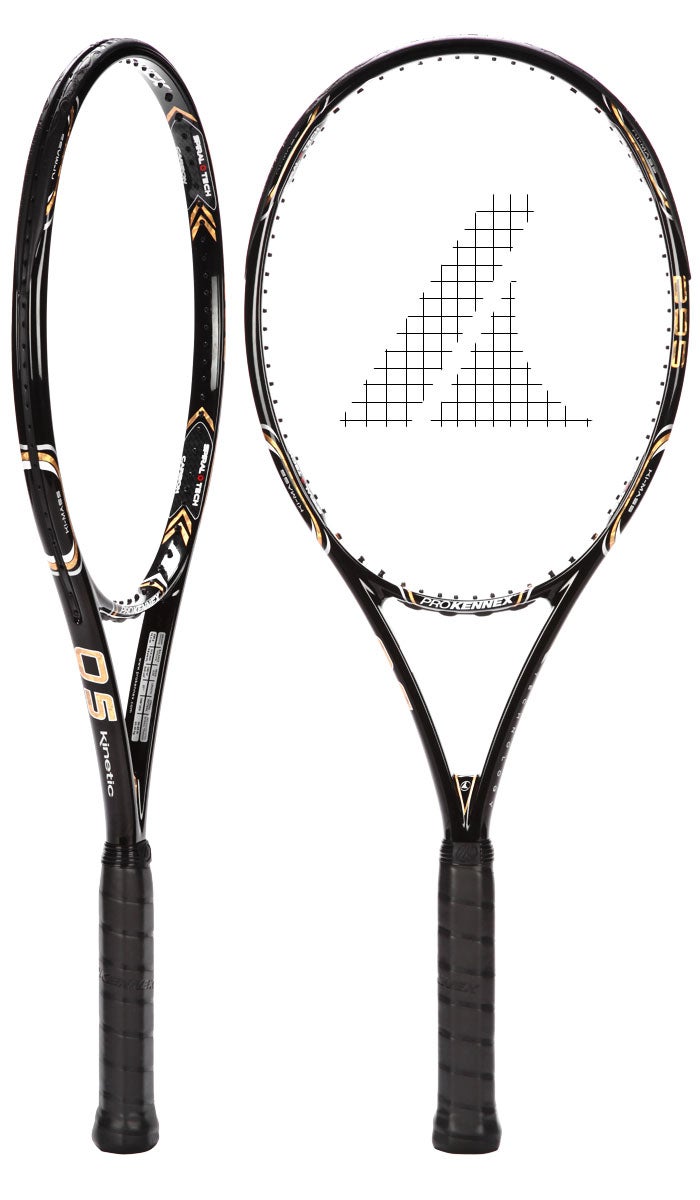 ProKennex might not be one of the biggest names in tennis racquets these days, but there are plenty of fans of its arm-friendly racquets. Count me among them.
I've long been a fan of ProKennex, going back to my high school days when I swung the heritage edition of the Silver Ace. I'm always excited when a new offering comes into the office. I liked the Black Ace 98, and although I think it swings much more easily than it's 11.7 ounce strung weight might suggest, it's still too much racquet for me. So when the new Q5 racquets arrived I was more than happy to pick them up and take them out for a hit.
I started with the 315g version, but as one would guess, it is also a little bit too much racquet for me to handle consistently. I put that one down and began playing with the 295g version. This is right up my alley, and I've been hogging our sample racquet since that day.
At 11 ounces strung with a slightly head light balance, this one swings just right for me. I can whip it around when needed, and it comes through with the power of something like two of my favorites, the Babolat Pure Drive and Donnay Formula 100.
Like the Formula 100, the Q5 295g offers a more arm friendly feel compared to many similar, competing racquets. ProKennex has made a name for itself with its Kinetic technology, saving the arm of many a tennis player. In the Q series, the racquets feature Quad Kinetic technology, placing the Kinetic technology at the corners of the racquet. According to ProKennex, segmenting the Kinetic housing in the four locations optimizes the power of the racquet and the arm-friendly benefits of Kinetic.
I've been playing with the Q5 quite a bit when not testing racquets or strings, and it's quickly becoming one of my go-to racquets. On groundstrokes, I am definitely noticing a bigger punch on my shots. It's especially noticeable on my forehand, where I struggle to create as much pace on my own. At net, I like the feel. It's crisp when hit cleanly, allowing me to place the ball (or as well as I can up there!), but it's not jarring on off-center hits (bonus, since I do this a lot at net). Probably what's best for me is that I feel confident with this racquet in my hands, and confidence always help on court. I've been hitting this with a crisp multi at 59 lbs, but I'm ready to turn to our string guru, Jon, to see what other ideas he might have up his sleeve.
If the Q5 295g sounds like a racquet for you, you can demo one today!
Happy Hitting!
Tiffani, TW
Posted on August 20, 2012 in Meet the Playtesters
Hi!
We  have a special blog on our (not so) new playtester, Andy Gerst! You may remember Andy as he blogged about his travels on trying to become pro about two years. Well now, Andy is an Assistant Web Editor  at Tennis Warehouse. You can find him on racquet, string, and shoe reviews.  He also is the new host of the Liquidation blogs. Check out his interview below.
How long have you been a playtester: 2012
Racquet of Choice: Yonex RDiS 100 Mid
String of Choice: Luxilon Big Banger ALU Power 16L
Shoe of Choice: Asics Gel Resolution 3
Apparel of Choice: Nike or Under Armour
When/Why did you start playing tennis?
I started playing tennis at the ripe young age of 3. I loved watching sports on TV and being active so my parents wanted to start me in a sport. I was too young for all the "normal" sports (baseball, basketball, soccer, etc.), so my parents took me to a tennis club next to my dad's office for a "Pee-Wee" clinic. The rest is history!
Who inspires you to play tennis?
Roger Federer and Rafael Nadal both inspire me in different ways. Roger's shot-making and seemingly effortless movement across the court is always fun to try and emulate after watching him play a great match on TV. Rafa's sheer athleticism and the incredible level of fitness is a testament to his unparalleled commitment to the game. His heart and fighting spirit is always inspiring to watch. In addition, I believe we are fortunate to have two stars and ambassadors for the sport that are so classy, humble and easily respectable. Both Roger and Rafa are such great role models for our next generation of tennis stars.
What is your favorite shot to hit and why?
Nothing feels better to me than stepping in on a kick serve to my backhand and crushing the return cross court. I love taking the return of serve early and taking control of the point quickly, especially when I get a good look at a second serve. I also love hitting the occasional "tweener" after getting lobbed at the net.
What racquets have you used (not tested) during your tennis career?
I played with all kinds of racquets throughout my career. My earliest racquet memories include the Wilson Hammer 6.2, Prince Thunderlite and the Pro Kennex 5G. In my teenage years, I played with the original Babolat Pure Storm (still my favorite version of that racquet), the Head iRadical MP and the Yonex RDX 500 Mid. In college, I used the Prince Diablo Mid and the Head Microgel Radical MP. After college, the Prince TT Warrior MP and the Yonex RDiS 100 Mid were my weapons of choice.
If you could compare your game style to a pro's (past or present), who would it be and why?
I think I play most similar to Novak Djokovic because both of our strengths are our returns of serve and backhands. In addition, in 2010, Djokovic served more double faults than aces. My 2010 service statistics were probably very similar.
What has been your favorite match you have ever watched (live or on TV)?
The Federer/Nadal Wimbledon Final in 2008 was the greatest match I have ever seen. I remember watching the final in a friend's basement and staying down there the whole day through all the rain delays. The level of play in that match was absolutely incredible, and the historical implications that match had made it one of the greatest of all time. That was the match that established Nadal as the new No. 1 in the world and a threat on all surfaces.
Do you have any superstitions before playing a match?
I like to put on a fresh Tourna Grip overgrip on my racquets before every match. I usually do it in the couple minutes prior to going on the court as a way of calming down, getting rid of distractions and getting focused for the match.
 Do you have pre-match meals you like to eat before a tournament?
I'll eat pretty much anything prior to a match, but I've got to have a cup of coffee in the morning to get me started and ready for the day.
What has been your most memorable tennis match (win or lose)?
My senior day (my last home match) of my college career was the most memorable match of my career. The dual match was tied at 3-3, and I was the last singles match left on court. After going up a set and 5-2, I had lost 10 straight games and went down 0-5 in the third set. I worked my way back, saved five match points, came back and won my match 7-6 in the third set to clinch the dual match for my team.
Have you had any injuries? For how long? How did you deal with them?
I have had my fair share of injuries throughout my playing career, the worst of which was probably a torn ligament in my right knee while I was playing professionally. The injury kept me out for about four months, but it was almost a year before I was able to play at the level I was at prior to the injury. I think the most important thing about dealing with injuries is staying positive during the rehab process. I think the ability to stay upbeat and optimistic is just as important as the physical rehab process in order to get you back healthy as quickly as possible.
What is your favorite part of being a TW playtester?
My favorite part of being a TW playtester is being able to try all the newest gear as soon as it comes out. It is fun being able to play with all the latest technology and comparing all the new racquets, strings, and shoes. It's also awesome being around a great team of people here at TW. The environment here is always so positive and upbeat, and it's great to be a part of.
Who is your favorite TW playtester to hit/play with?
It's a lot of fun playing with Brittany and Siobhan because of how long I have known them and the history we have on the tennis court together. I've gotten the chance to play mixed doubles with both Siobhan and Brittany in many Open tournaments, and I got to coach Brittany when I was the assistant coach of our women's team at Cal Poly. It's fun hitting together and remembering all the good times we have had on the court together in the past. They are also both great players, and I always get a great workout hitting with them!
Who is the TW playtester who gives you the most trouble?
I have not had the chance to play with everyone yet, but every person I've played with so far has posed their own challenges. Siobhan and Brittany are both great baseliners, and when they have the chance to step in the court with their backhands they are very dangerous. Chris is very crafty and has every shot in the book. When you play him you are always off balance because you never know what kind of shot he is going to hit.
 What has been your favorite review and why?
I loved reviewing the Asics Gel Resolution 3 shoe when it came out a couple years ago because it was such a great shoe. I had never even considered trying an Asics shoe before, and after reviewing it I had a new favorite shoe. The colors of the shoe are always a conversation starter with people at tournaments, too!
 Do you have any nicknames from the TW playtest squad?
No nicknames yet, but I'm sure I'll make a rookie mistake in the near future and a nickname will follow soon thereafter.
————
Thank you for checking out this special installment of "Meet the Playtesters."
Brittany, TW