Posted on November 1, 2012 in Racquets
What's new
The beam moves away from the traditional box beam shape to be a more aerodynamic design.
The head of the racquets is more of a tear drop shape to help create more power.
Grommet strips sit flush to the frame, reducing drag in the air and increasing maneuverability.
The handles are longer to accommodate those with two-handed backhands.
Biofibre: Natural fibers, extracted from plants, are placed in the throat and handle of the racquet to increase stability and reduce shock, improving feel and control.
MoS2: A grommet technology inspired by snake skin, MoS2 grommets are designed to reduce string friction to allow for more string movement and resulting in more power and greater durability.
Aeroskin CX: Inspired by sharkskin, this technology features a dimpled texture on strategic places on the frame. This updated use of Aeroskin reduces drag by up to 36 percent, an 11 percent increase from previous Aeroskin Technology, according to Dunlop.
In a nutshell
Overall, there is some added pop from M 3.0 compared with previous iterations, but the racquet does offer plenty of control without sacrificing feel and comfort.
How it breaks down
Dunlop was successful in amping up the power level of the M 3.0, and our testers did find some added power when compared to other Dunlops. Brittany likes to dictate play from the baseline and has played with the previous Biomimetic 300. She said, "With the new M 3.0 I felt both the control and crisp feel were still present, but there was some added power."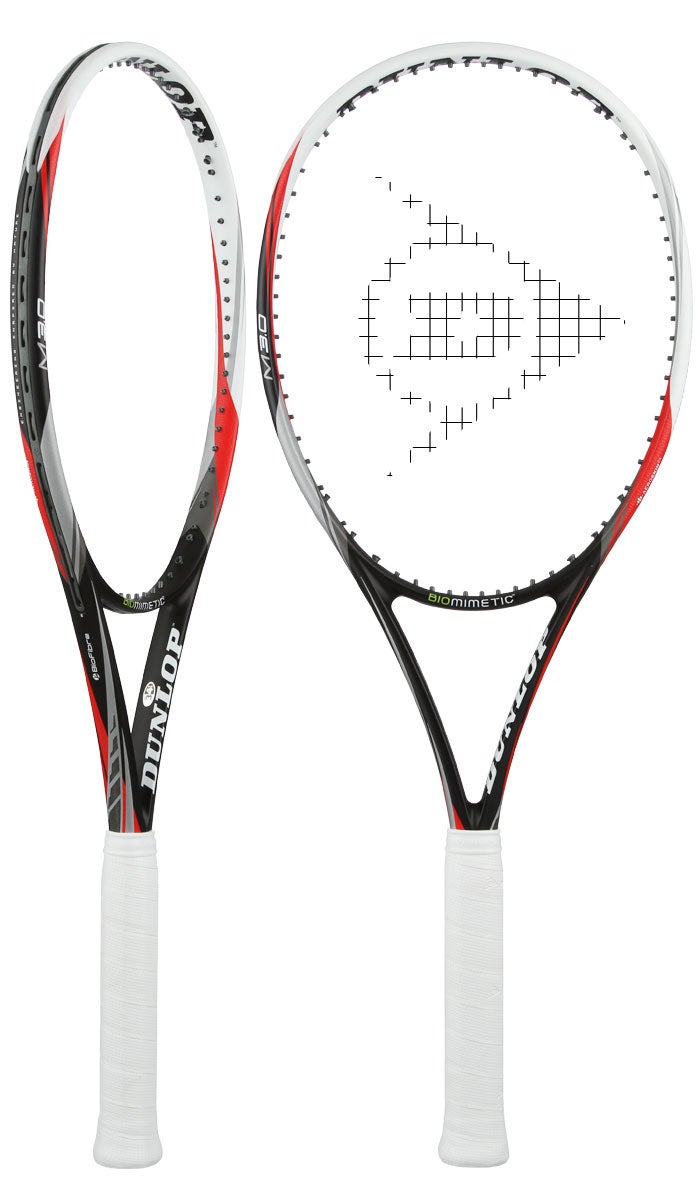 The only issues came when forced to generate all the pace. "When I had to create my own pace I found some power when the ball hit in the sweetspot, but I found the sweetspot to be quite small," Brittany explained.
The extra control provided by the M 3.0 was beneficial when it came to net play. Siobhan, also an aggressive baseliner and frequent doubles player, says volleying was the highlight of the racquet.
"I really enjoyed the touch, feel and control," she explained. I was able to be quite offensive with volleys."
Control was again noticed when it came to serves, with Jason reporting, "I found it easy to serve with, but the spin was surprisingly just OK considering the open string pattern and the fact that I could generate tons of racquet head speed. I did feel like I could control the direction of my serves well."
Mark compared this racquet to a variety of control-oriented racquets: "The M 3.0 reminds me of a firmer, open patterned Head Radical Midplus, a firmer IG Radical Pro, an open patterned K Blade 98 or a slightly lighter Donnay Pro One (newer editions), and it's similar to the Volkl Power Bridge 9."
Though we found more power from the Biomimetic M 3.0 than the Biomimetic 300, our testers struggled with a small sweetspot. Despite these issues, the M 3.0 was a consistent performer across categories with maneuverability, control and comfort being standout aspects. That's what our testers had to say. Check out our customer feedback for more opinions, and if this sounds like a potential racquet for you, demo one today.
Read the complete written review here.
TECHNICAL SPECIFICATIONS
Length
27 inches
69 centimeters
Head Size
98 square inches
632 square centimeters
Weight
11 ounces
312 grams
Balance Point
13.25 inches34 centimeters
2 Pts Head Light
Construction
22mm / 22mm / 22.5mm
Composition
BioFibre
String Pattern
16 Mains / 19 Crosses

BABOLAT RDC RATINGS
Score
Grade
Flex Rating
66
Range: 0-100
Swing Weight
318
Range: 200-400