Posted on December 5, 2012 in Shoes and Apparel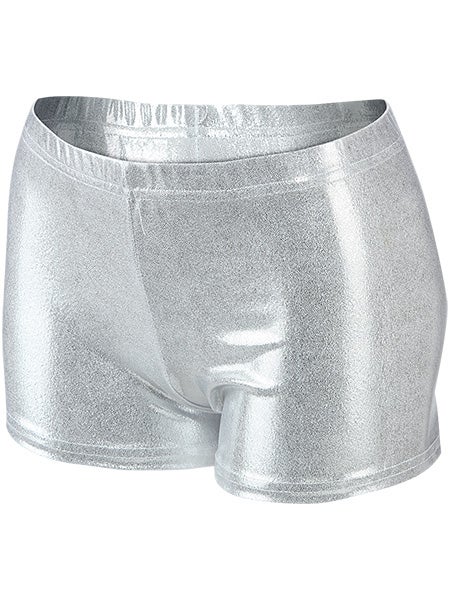 Funkadelic Bling It On Compression Short is an easy way to add a little sparkle to your outfit. Before my Bling It On compression shorts, most of my compression shorts were black because, well, black pretty much goes with everything. However, these silver glitter shorts are very versatile and add a little funk out on the tennis court.
Now I wear my shorts under a ton of different style skirts and dresses to add a little bling. The fit is true to size (if you wear a medium, get a medium). I found the shorts to be mid-rise and come up a little higher than I am normally used to. The glitter pattern on the short is a bright silver color that is very comfortable and not scratchy. The elastic waistband is also very comfortable. The material is the perfect thickness. It is not too thick so it is lightweight and breathable as well as it is not too thin so the shorts aren't see-through. One of the most important things about compression shorts is their ability to hold a tennis ball in place. And I can safely say, these shorts are very effective at that. Word of warning, please hand wash these shorts. If you put them in the washer and dryer, the sparkles lose their sheen.
PS- If glitter isn't your style, Funkadelic has five other fun patterns including animal print and paint splatter.
Posted on August 24, 2012 in Shoes and Apparel
The tennis world is no stranger to compression shorts. If you frequently watch professional men's tennis, you've likely seen the compression shorts peek out beneath the regular shorts.
The idea behind compression is that these pieces, usually shorts but tops are also available, they help reduce muscle fatigue and offer support during physical activity. This apparel technology is something that can benefit tennis players of all levels, not just the pros. Count our TW playtesters as fans of compression, too.
Many brands have them, Nike, Under Armour, adidas, but all of these shorts are not sport specific. They are general training compression pieces. Wilson has just upped the ante with its seamless compression pieces by specifically designing them for the tennis player. They've made short sleeve tops, long-sleeve tops and shorts meant to be worn as a baselayer beneath your usual tennis clothes.
Ask any tennis player, and they'll tell you that tennis is a full body workout. Even fit non-tennis players can go out for a hit one day and feel sore in muscles they didn't even know they had.
Wilson smartly targeted the key muscles groups tennis players use and paid extra attention in those areas. For example, there is maximum compression on the deltoid and rotator cuff with high density vertical rib construction to support this key muscle group. Serving, groundstrokes…. all that high velocity swinging can take a toll on the shoulder area. On the shorts, the key focus is kept on the quads and hamstrings.
Players also can work up a sweat so ventilation channels on the body help keep it cool. To add to the comfort factor, these pieces are seamless through the body and legs. With all the coiling of the body, there's plenty of room for chafing. By having no seams in key areas and strategically placed channels, movement will be comfort free and restriction free, meaning you can swing away without feeling encumbered.
Some of Wilson-sponsored pros are wearing this new compression gear beneath their stylish duds. Count Feliciano Lopez as one. Check out the graphic below for a visual explanation of how Wilson's seamless compression works.
Happy Hitting!
Tiffani, TW
Posted on June 18, 2009 in Shoes and Apparel
Without actually revealing my age, I was in my first year of college the last time I sported a jockstrap. I played on the basketball team, and the school provided equipment such as shoes, uniforms, socks, and yes, jockstraps. So what the heck, I'll take advantage of the free gear. First game, I got dressed and immediately realized this jock was not going to work for me. Not sure how my 5'10", 165 lb. frame was mistaken for Shaquille O'neal's, but since our game was on the road, I had to make do. Let me just say that the straps in the back were so loose, I got a first hand look, or feel rather, of what it was like to wear a thong. Too much info? Probably. That would be the last time I would be a supporter of wearing a jockstrap, or should I say a jockstrap would be 'supporting' me.
Back then, compression shorts were called 'tights' or 'spandex shorts' and were seen mostly in the aerobics room at your local gym. They went hand in hand with the classic Reebok aerobic shoes and headbands that were 'in' back then. Flashdance comes to mind, "I'm a maniac, maniac. . ." You're catching my drift, I'm sure. My girlfriend at the time worked at a store that sold dance/workout wear. Parking my pride at the curb, I went in and found a pair of 'tights' and have never looked back. Not only do you get the same certain 'support' you would get from a jockstrap, but the added tautness around the glutes, hammies and quads helps as well — a much more comfortable and supporting option as far as I'm concerned.
I'm certainly not in the minority when it comes to that decision as you will notice in today's sports, most players are also wearing compression shorts. Both men and women have taken advantage of this comfort and support. Is the jockstrap dead? Not yet, but those who wear them would be termed as 'old school', or 'traditional'. Let's just say that compression shorts are the overwhelming choice in athletics today.
To this day, I still play basketball, as well as tennis. I also frequent the gym. For all of these activities, it is second nature to throw on compression shorts under my shorts. I guess I could say I feel naked without them. Literally.
Supportingly yours,
Spencer