Posted on February 14, 2013 in Bags Miscellaneous
The Tecnifibre Pro ATP Tennis Bag Series is a new bag option from Tecnifibre offering four sizes of bags for any active player. The slick black cosmetics of these bags make them visually appealing, and the attention to detail that Tecnifibre used when making these ensures that they are durable and will stand up to any conditions. Made of Tarpaulin, the material is unbreakable, waterproof and has been designed to stand up to the heaviest of conditions that ATP Tour players face day in and day out.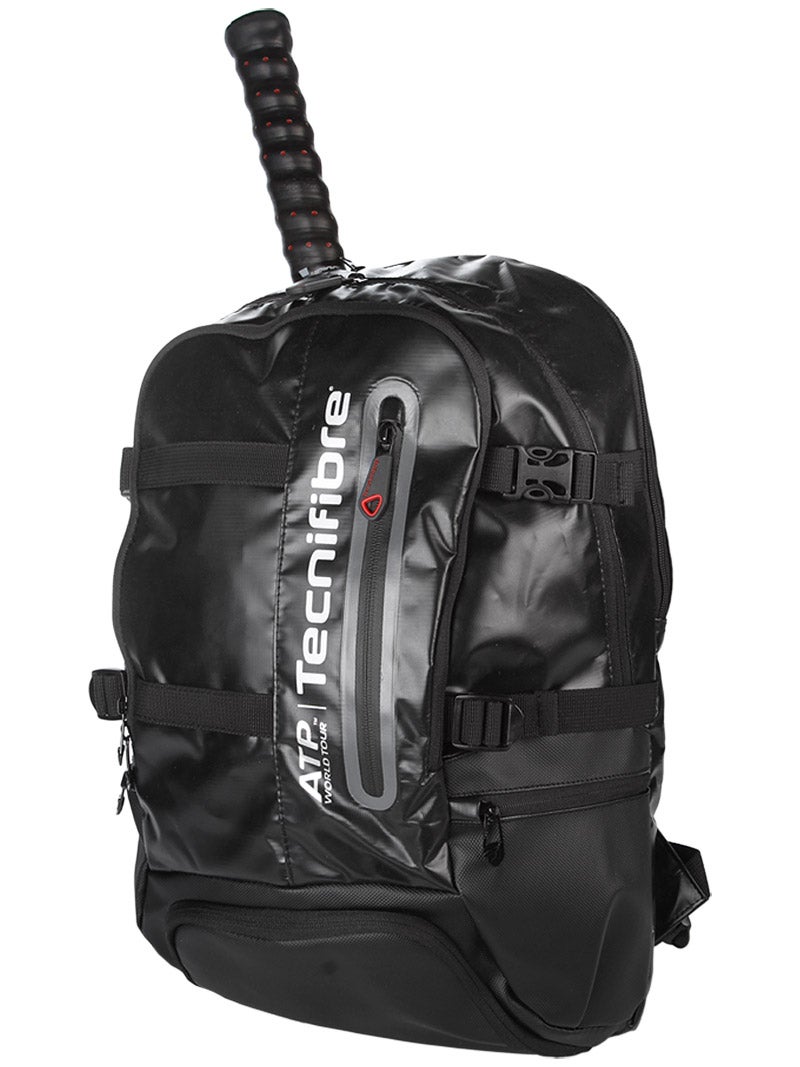 Posted on September 17, 2012 in Bags Miscellaneous
Welcome tennis lovers, in recent product videos I took a quick look at the Yonex Tournament Basic Series Bags. The thing I really like about these bags is the clean design, because they aren't too too flashy, but completely functional and spacious. (Make sure to click on the pictures for links to the videos.)
The Tour Basic 6 Pack bag has two main compartments, an accessories pocket, shoe bag.. Everything you need in one simple design.
The Tour Basic Back Pack bag holds up to two racquets and has a really clean style. It's quite spacious for a compact back pack.
A lot of bag lines don't include a travel bag, and I really liked how simple and spacious this Tour Basic Tour Bag was. Easy to carry too, with big middle grab handles and a shoulder strap.
If you ever have any questions about bags or string, please contact us on Facebook, Talk Tennis, YouTube, Twitter.. We're here to help!  Keep an eye out for more videos coming out in the next couple weeks, and if there is a bag you want featured, don't hesitate to ask.
Until next time!
Siobhan
Posted on June 15, 2012 in Miscellaneous Shoes and Apparel
I agree, I may have been pushing it a little bit with that acronym… But that was the best I could come up with (if you thought that was bad, you're lucky I didn't list any of the other ones). For this installment of TGIF I wanted to showcase the adidas Tennis Trefoil T-Shirt.
What does this shirt have to offer you ask? Everything. Well, not quite everything, but close enough; it has comfort, style and versatility. Available for both men and women, it's one comfy tee that'll make you look stylish whether you decide to wear it for athletic or casual wear.
Before you disregard it for being just another plain logo t-shirt, go on and take a closer look. Notice anything you didn't before? That's right, tennis balls! The classic adidas trefoil logo is made of tennis balls (well done, adidas, well done) adding a bit of craftiness to the design. And not to mention the burst of bright yellow from the logo is enough to make it anything but plain.
Flaunt how good it makes you look on the courts. Show it off at the gym. Wear it when you go to the movies or out to lunch with friends. I love versatile clothes you can wear for different types of occasions, and this is one top that should not be overlooked!
And if you're like me and sometimes suffer from not having enough hands to hold everything, check out the adidas Alliance Sport Sackpack. This bag is a perfect match with the adidas Tennis Trefoil T-shirt if you love coordinating your outfits. Like the shirt, it's versatile so you can take it everywhere with you to help carry your tennis racquet, gym necessities or everyday items. Pick out your favorite color and free your hands so you can show off the front of your matching adidas Tennis Trefoil T-Shirt!
Oh, and TGIF2! (Yes, "Thank goodness it's Friday too" instead of another one of my bad acronyms.)
~Karly