Posted on December 31, 2015 in Strings
We're wrapping our year's best of lists with strings. Our Tennis Warehouse playtesters are weighing in on their favorite gear of the year after of product reviews. Read on for our picks of the best strings of 2015.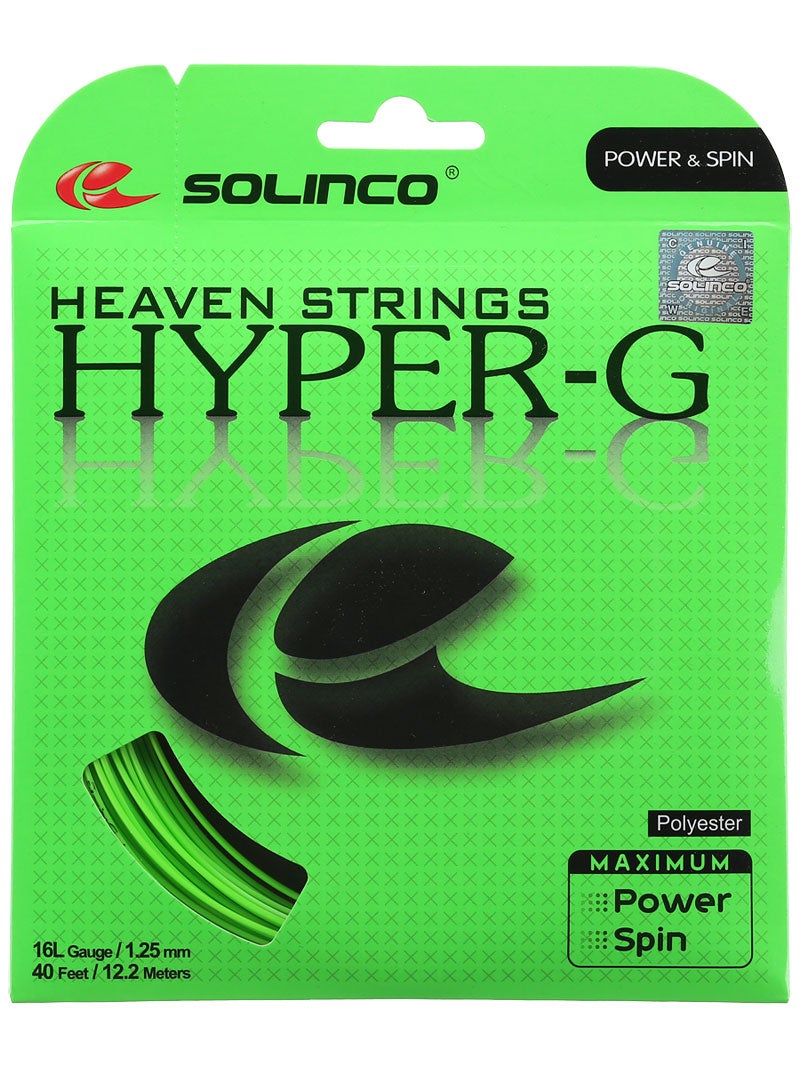 A new string from Solinco picked up the most votes from our team. Perhaps best known as the company behind Tour Bite, Solinco caught the attention of four TW testers (Mark, Andy, Michelle and Chris) for its new Hyper-G, a shaped co-poly.
Andy: "A premium shaped co-poly meant for big hitters, it also possesses a plusher feel and excellent responsiveness leaving you super connected to the ball as it leaves your strings."
Michelle: "Comfortably firm, control-oriented with great spin potential and pocketing…check, check, check!"
It was a tight race for Chris, who also picked Robin Soderling's string offering: "Tied: Solinco Hyper G and RS Lyon. Both of these co-poly strings offers exceptional control, great feel and impressive spin. They are both at the top of my list (along with Volkl's venerable Cyclone) for what I'd want in my racquet come tournament time."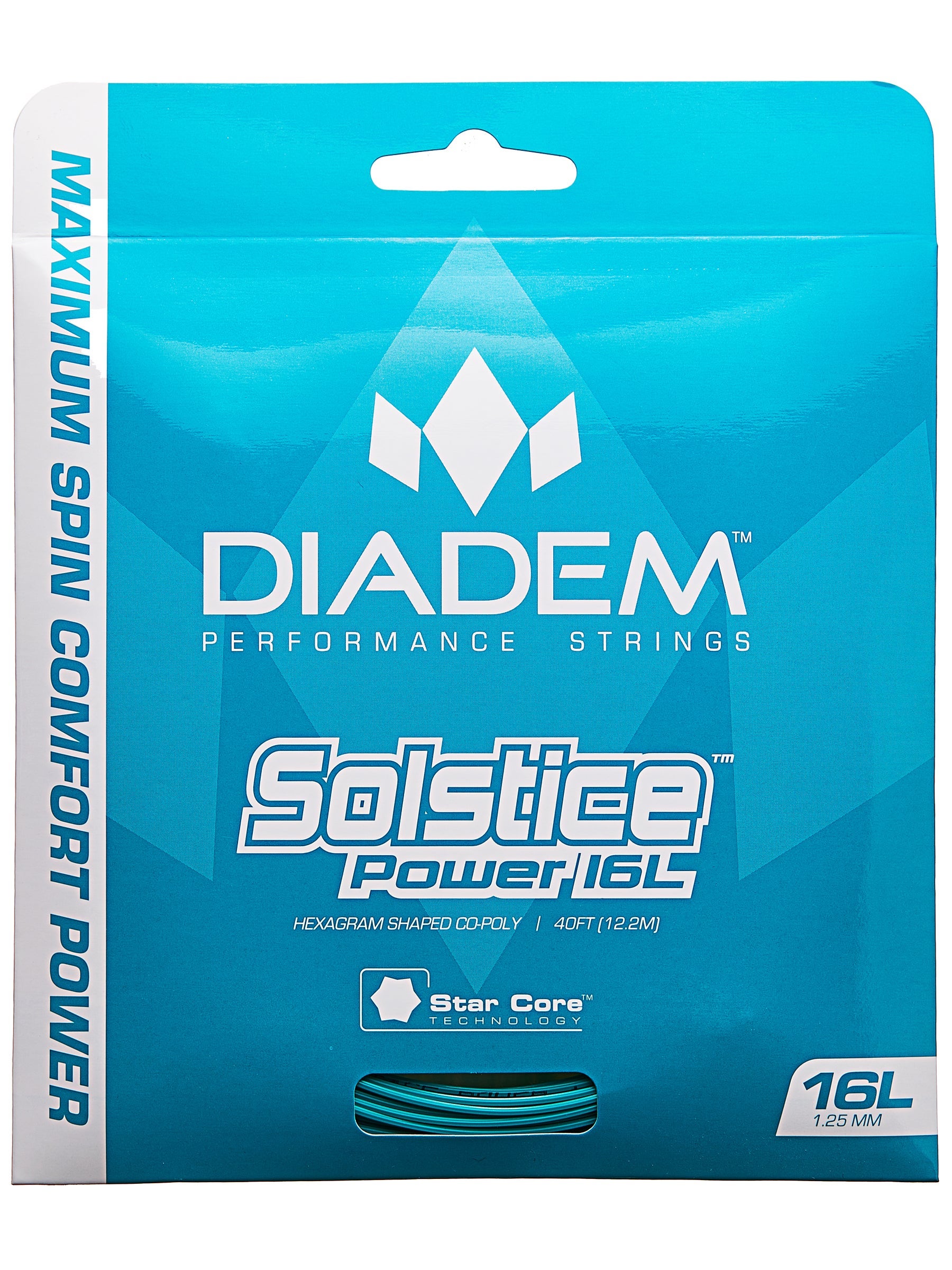 Relative newcomer Diadem has made fans on our testing squad. Two players tapped Solstice Power 16L as their top string of 2015.
Troy: "I found this string to provide all things I look for in a trusty co-poly with the added benefit of comfort. I also found this string to have better tension maintenance than many of the other soft co-poly strings that I have tried."
Marco: "I enjoyed the way this string really gripped the ball and gave me extra bite on my strokes. It played very lively and complemented my aggressive strokes well."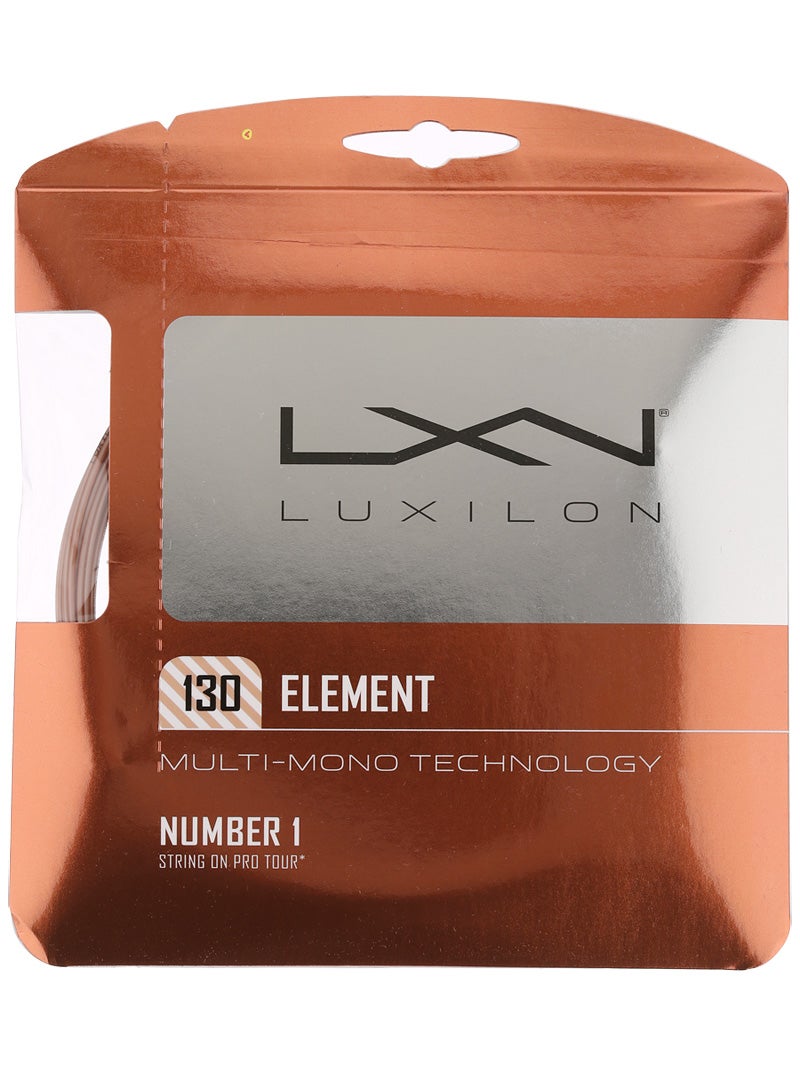 The big name in polyester strings, Luxilon, couldn't be ignored either. Its new Element string also received two votes.
Sebastian: "My favorite string of 2015: Luxilon Element (16 gauge) for exceptional spin-potential, great control and nice, comfortable feel."
Jason: "It provides the control and spin that polyester string provides, but it also has a softer response that is easier on my arm. "
You might have noticed that up until this point, the team has chosen some form of polyester string. Head Reflex MLT, tapped by two playtesters as their favorite, is an arm-friendly multifilament string.
Karly: "As a player who looks for comfort, I naturally like softer strings. Head Reflex MLT is a soft multifilament that offers a great blend of comfort and feel!"
Tiffani: "Although I can appreciate a nice soft co-poly, it's hard to say no to the comfort of a multifilament like Reflex MLT. When it comes to multifilament strings, I am looking for comfort, but I don't want to sacrifice too much control. Reflex fits the bill. I can string this at higher tensions to get the comfort I want and get the control that I need."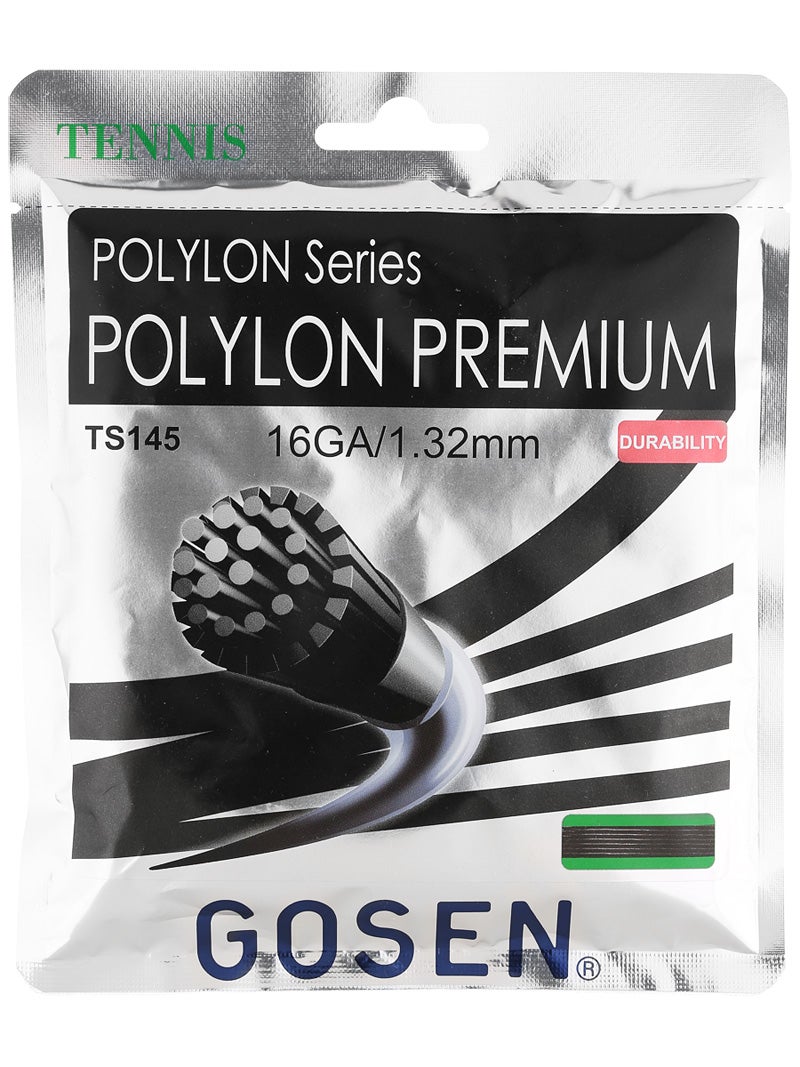 Rounding out the team's top strings for 2015 is an update to a control-oriented Gosen polyester string.
Brittany on her choice, Gosen Polylon Premium: "This is a great low powered poly and extremely comfortable!"
Posted on December 29, 2015 in Racquets
Prince Textreme Tour 95 and the 100P were staff picks.
The Tennis Warehouse playtesters are choosing their favorite gear of 2015 after a year of reviews. Today they weigh in on their favorite racquets of the year.
Considering the popularity of the EZONE Ai models, it comes as no surprise that Yonex scored well with the EZONE DR 98 and EZONE DR 100. Three playtesters chose an EZONE DR model as their favorite of 2015.
Andy on the Yonex EZONE DR 98: "Yonex took a racquet that was already my favorite on the market and made it EVEN BETTER!"
Brittany on the EZONE DR 100: "The update to my racquet of choice was excellently executed. Great combination of power and control, and I loved the spin potential and feel!"
Jason couldn't pick just one, also choosing a Wilson Ultra model: "Yonex Ezone DR 100 or Wilson Ultra 100. The Yonex DR version offers a bit more stability than the Ai model, which is already my racquet of choice. It feels like my weighted up version without the additional weight added. And the Wilson Ultra 100 was a real surprise to me. It felt great from the get-go. Maneuverable, plenty of pop, spin friendly. What's not to like?"
A longtime favorite, Babolat's Aero line received an update this year, and the Pure Aero Tour in particular caught attention from our review squad.
Both Mark and Chris chose the Babolat Pure Aero Tour. Chris: "Rock solid stability, great power and exceptional spin. What's not to like!? Every time I pick up this heavier version of the Pure Aero it feels like a natural fit for my game."
Not to be ignored, the Pure Drive line also garnered a vote for its powerful response. Troy on his choice, the Babolat Pure Drive Tour Plus: "This racquet packs a ton of power, especially on serves! I love the extended length handle for my two-handed backhand and added range on my returns. The added mass in this Tour version satisfies my craving for plowthrough in a racquet. I really enjoy how this 2015 update, with the FSI string pattern, amped up the control to tame this beast of a racquet!"
Prince's Textreme line also drew plenty of praise from the TW playtesters. Two players switched to the Textreme Tour 95 this year.
Sebastian: "My current racquet of choice is the Prince Textreme Tour 95 because of its solid and control-oriented feel. I also appreciate the overall comfort I get out of this Prince racquet. To maximize the performance of my racquet of choice, I would string it with a hybrid setup. To get the best possible blend of power, spin and feel, I would use Babolat RPM Blast 17 gauge in the mains and Babolat VS 16 gauge in the crosses."
Karly: "I can't say enough good things about the Prince Textreme Tour 95 — it's a traditional playing racquet with extreme amounts of control, comfort, stability and maneuverability."
Tiffani was also a fan of the Textreme Tour racquets, making the Textreme Tour 100P her pick: "I synced so quickly with this racquet. The racquet is comfortable on my arm, and the balance of power and control is just the right mix for my game. I just feel more confident during points when I'm playing with this racquet."
Jason chose the Wilson Ultra 100 as one of his favorites, but other Wilson racquet families got some love, too.
Marco switched to the Wilson Blade 98 16×19 this year: "The blend of comfort, control, power, and precision is spot on for me in this racquet and it fits my game well."
Although Michelle uses the RF97 Autograph as her go-to, she found a spin frame she liked. Michelle on the Wilson Pro Staff 97S: "This is the first Spin Effect racquet I really enjoyed hitting with as the spec falls into that of a 'player's frame' and the string pattern doesn't create any erratic launches off the stringbed but rather generates spin right when you need it. With a bit of customization, this was one of my guilty pleasure racquets of the year!"
Posted on December 28, 2015 in Shoes and Apparel
Each year the playtest team here likes to reflect on the gear they've reviewed the past year. We asked them to pick their favorites. Here are our picks of the best tennis shoes of 2015, as chosen by the Tennis Warehouse playtest team.
For men and women, it was a year dominated by adidas.
Men's tennis shoes
The adidas Barricade got two mentions, with Chris choosing the Boost version and Sebastian choosing the non-Boost option. Chris on the adidas Barricade 2015 Boost: "A great fitting shoe which offers class leading support, stability, traction and solid durability. The regular version is a great shoe, this Boost version adds really responsive cushioning to the mix."
Sebastian: "Favorite shoe of the year is the adidas Barricade 2015 because of its tremendous blend of support, comfort and stability."
Marco opted for adidas' lightweight offering for 2015's best shoes: "I liked the way these adidas adizero Ubersonics played fast and light around the court. I felt really connected with my movement in them and enjoyed the lower ride around the court, too."
Lotto earned a couple of mentions for different models. While Mark opted for the Lotto EVO Raptor, Andy preferred the Lotto Stratosphere. Andy: "These are some of the softest, most comfortable tennis shoes I've ever worn while still providing a glove-like performance fit."
On Troy's feet, you'll find the Asics Gel Resolution 6: "I have been an Asics Gel Resolution fan since the initial release, and this sixth edition has been no disappointment. I love the blend of comfort, support, and durability that this shoe provides. There are many professional players, who don't have footwear contracts, that choose to wear Asics tennis shoes!"
Women's tennis shoes
The majority of the women on the team also chose adidas shoes as their favorites of 2015. Karly on the adidas Stella Barricade 2015: "adidas found a way to blend durability and stability together in an ultra lightweight package, making them an outstanding pair of performance shoes!"
The Stella Barricade 2015 was also Michelle's pick: "So much plush, step-in comfort! These shoes perform and look great on the court as they keep me quick and stable and offer high levels of durability."
Tiffani opted for the adidas adizero Ubersonic that was released later in 2015: "I loved the fabric upper, and the super low ride and firm cushioning fit right into my preferences. I'm always looking for extra speed on the court, and these shoes are so light, I feel speedy around the court."
Brittany chose the Lotto Raptor EVO: "I don't have a single negative thing to say but I especially loved the cushioning and durability!"