Author:
admin
Posted on December 4, 2012 in Miscellaneous
As the time ticks away to find the perfect present, let's take a look at some of our staff's picks for the season . We asked them to pick a racquet, string, pair shoes, apparel piece and one "wild card" the
y would like to get as gift this year. Check out the entire Staff Picks. Below, Siobhan explains her choices.
Volkl Organix V1 Midplus
This was one of the first racquets that I playtested at Tennis Warehouse, and it remains a favorite of mine. Maneuverable, yet stable. Powerful, yet spin friendly. Comfortable, yet solid. I really felt like this racquet complemented my game by allowing me to be aggressive and giving me a consistent response every time. I also like that this racquet suits a lot of game styles — if you look at our playtest you can see that everyone liked this racquet, and my mom even bought it. Whether you use polyester, multifilament or a hybrid, the Volkl Organix V1 Midplus is an all-round, enjoyable racquet.
Kirschbaum Pro Line X 17
I have great things to say about this string: firm, durable, great spin, low-powered, extremely predictable – the control is great. I really noticed the high levels of spin I got with this, and my opponents did, too. The spin, combined with being able to swing my biggest because its low-powered, allowed me to completely rip the ball. It also has decent playability, so the tension is maintained pretty well over time. If you're a poly fan, this is definitely one to try.
Nike Women's Holiday Long Sleeve 1/2 Zip Top
I bought this top a couple weeks ago, and I love it. I have actually worn it more for running than I have for tennis, but it's functional for all types of exercise. It's made of knit-jersey so it's perfect to keep you warm when it's a bit colder outside like now, but it's fitted so it doesn't move around and get in the way. The hood is a cute feature, and I like the seam feature that gives it a flattering shape. Comfy and sporty: my favorite combination.
Asics Gel Resolution 4 in Navy and Purple
This is one of the first shoes I playtested earlier in the year, and it is my go-to shoe now. It is a high-performance shoe that offers comfort (a wee break-in period but nothing to worry about), stability, support and good durability. It continues to maintain its support and comfort over time, and I have minimal wear for how long I have been wearing them. They also have a six-month durability guarantee so if you're wearing through them quickly, you can trade them in. I also like the colorway – it's unlike any other shoe I have worn, and I really love it.
Wilson Pro Overgrip Perforated
When it comes to overgrips I'm not too picky as long as they are tacky and maintain the tack over time. This does that and has all the other characteristics too: easy to put on, wicks away any sweat, still works well over time. A quality grip. The best thing about it? I like the bright colors. Adds a bit of attitude 🙂
Happy holidays!
Siobhan
Posted on November 26, 2012 in Miscellaneous
Now that the turkey has been eaten and the shopping season has kicked off, let's take a look at some of our staff's picks for the season. We asked them to pick which racquet, string, shoes, apparel and one "wild card" they would like to get as gift this year. Check out the entire Staff Picks. Below, Brittany explains her choices.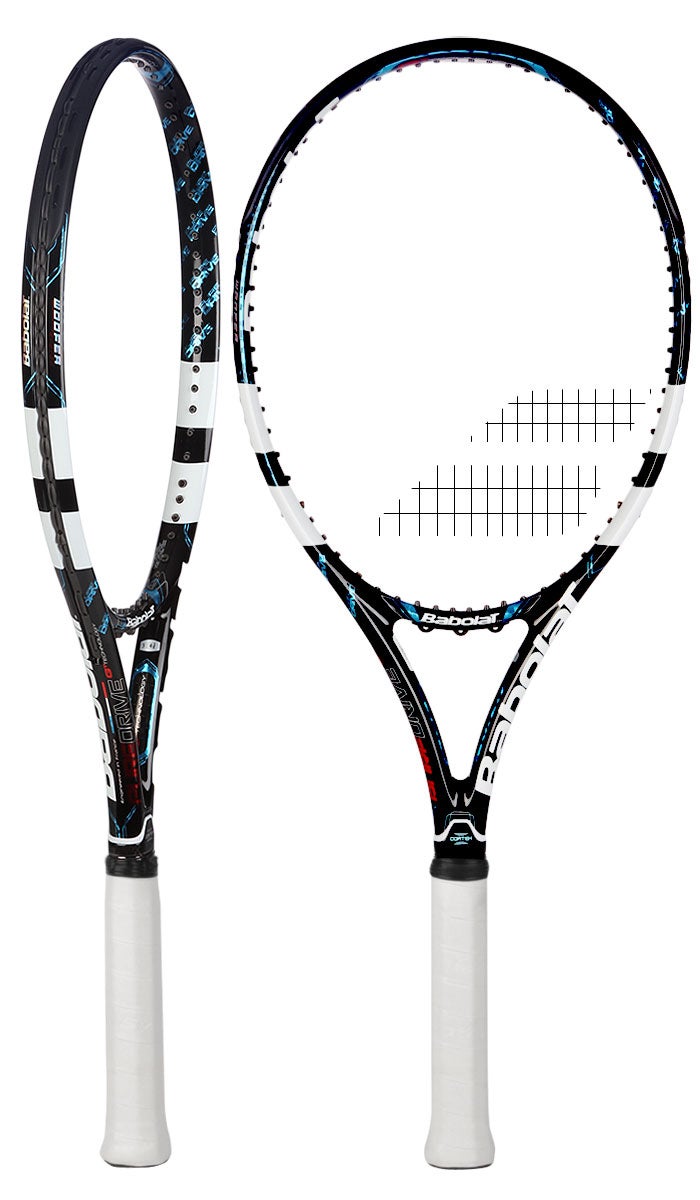 Racquet: Babolat Pure Drive
I was excited to playtest this updated version of the Pure Drive because it was like reuniting with an old friend. I used a previous version about five to eight years ago, so when I got the new Babolat Pure Drive in my hands I was not disappointed. Between the sleek new black cosmetics and the power and feel, this racquet is my pick for 2012. It is the perfect racquet as well as gift for a variety of players and game styles.
Shoes: Nike Lunar Speed 3 Black/Volt
The Nike Lunar Speed 3 was a highlight shoe for me this year. It was super light and comfortable (after a break-in period) and came in a wide range of fun, bright  colors. I have been waiting for years for Nike to come out with a black women's shoe, and the Black/Volt colorway was worth the wait. Worn by No. 1 WTA player Victoria Azarenka, this is perfect for the competitive player who wants to feel lightning fast on the court.
String: Kirschbaum Pro Line Evolution 17
Strings have never been my forte. Now that I have worked at Tennis Warehouse for more than two years, I have learned so much about strings. The Kirschbaum Pro Line Evolution 17 string has been a go-to for me this year. First, I will start by saying I love the awesome blue color that looks great in every racquet. Secondly, this soft feeling poly, gives me the perfect combo of power and spin as well having great durability.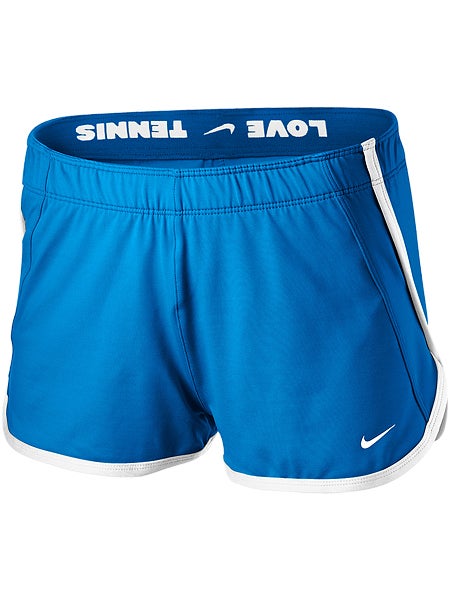 Apparel: Nike Tie Break Knit Short
I love practicing in shorts. Growing up, the Nike Statement Short was my all time favorite. I had it in a variety of colors and updates and was super excited when Nike came out with the new Nike Tie Break Short this year. It is the perfect short for practice as well as match play. With tons of colors to choose from, the short also features built-in compression shorts and a super cute elastic waistband that folds over to read "Love Tennis."
Misc: Head Dri-Fit Head-Tie
For my miscellaneous category, I thought long and hard about a funny or creative product to pick. After considering many options, I realized that a product that I used frequently this year that is extremely functional is the Nike Dri-Fit Head Tie. It comes in a variety of colors and is the best product I found to keep both the sweat out of my eyes and my hair out of my face (without having to wear a visor or hat). I am also not going to lie that I feel pretty badass wearing it!
Posted on May 19, 2011 in Miscellaneous
Forbes.com recently released the World's Most Powerful Celebrities List, and five professional tennis players are on it. Let's check them out!
The Federer era may be dwindling as Nadal and Djokovic have bumped him down to No. 3 in the world, but on the Forbes list Roger Federer comes in at the highest out of the five players at No. 25.
Federer's breakdown:
#30 in Money – $47 million
#48 in TV/Radio – 519 appearances
#1 in Press – 57,155 press clips
#23 in Social – 6,914k+ Facebook friends
#64 in Web – 514,000 Google news results
The King of Clay may begin to slide down the ranks because of Djokovic, but then again, Djokovic didn't make the Forbes list. Rafael Nadal comes in at No. 46.
Nadal's breakdown:
#58 in Money – $31 million
#29 in TV/Radio – 917 appearances
#3 in Press – 48,691 press clips
#24 in Social – 6,223k+ Facebook friends
#35 in Web – 1,130,000 Google news results
Engaged to NBA player Sasha Vujacic, the rock she sports on her hand didn't weigh her ranking down: She comes in higher than the next two females. Former No. 1 player, and top-earning female athlete in the world, Maria Sharapova comes in at No. 80.
Sharapova's breakdown:
#72 in Money – $24 million
#87 in TV/Radio – 81 appearances
#34 in Press – 13,877 press clips
#32 in Social – 4,158k+ Facebook friends
#67 in Web – 467,000 Google news results
It's been almost a year since this player began recovering from foot surgery and a blood clot in her lungs. Her latest appearance has been on the Forbes Most Powerful Women List at No. 55. On the celebrities list, Serena Williams comes in at No. 84.
Serena's breakdown:
#94 in Money – $12 million
#38 in TV/Radio – 711 appearances
#18 in Press – 20,111 press clips
#39 in Social – 2,018k Twitter followers & 456k+ Facebook friends
#65 in Web – 513,000 Google news results
Following in her sister's footsteps (minus the cut foot) is Venus Williams, who comes in at No. 86. Venus also made an appearance on the Forbes Most Powerful Women List at No. 60.
#90 in Money – $13 million
#52 in TV/Radio – 464 appearances
#29 in Press – 15,065
#46 in Social – 716k+ Twitter followers & 759k+ Facebook friends
#76 in Web – 307,000 Google news results
Well that's it! Congratulations to the professional tennis players who have made the Forbes Most Powerful Celebrities List!
Peace Sign,
Kana