Posted on October 26, 2012 in Shoes and Apparel
I fell in love with doubles during my sophomore year in college. Being on the tennis team, during matches we always would wear the exact same outfit.  Yes, it was fun to have someone on the court supporting you in a matching outfit and yes, I have done it since then (Check out the picture above of Siobhan and I in our intimidating getup).  However, sometimes I don't always want to be that matchy-matchy with my doubles partner.  I have come up with some tennis outfits to sport out on the court without my partner and I having to look like identical twins (except for one).
The first outfit will be for all the doubles teams out there that like to match.  I picked out this outfit as it doesn't fit the "I am wearing a team uniform" look.  The Nike Women's Winter Maria Back Court Tank is sporty and modern especially when paired with the fitted Nike Women's Winter Maria Back Court Skort.
Now, I start to mix it up.  Every woman has a certain style that flatters their figure.  In this pairing, I have the same colors but different style tops.  The adidas Women's Autumn adipower Barricade Tank and the adidas Women's Autumn adipower Barricade Top match perfectly together when coupled with the adidas Women's Autumn adipower Barricade Skort.  The top is more conservative fitting while the tank has a fun tankini-inspired back, but both tops tie together the complete look with the fitted band at the bustline.
Another option is to go contrasting colors.  I absolutely love the unqiue colors Lija offers especially iris.  Take the Lija Women's Virtual Fuse Impact Tank and the Lija Women's Virtual Fuse Distract Skort, choose opposite colors, and voila! you got a very fashionable doubles outfit.  And it doesn't hurt that Lija's fabrics are super soft and the cuts are very flattering.
So, I next picked out the same dress but different colors.  The Eliza Audley Women's Smash Hit Dress is available in both black and white and is the perfect dress for a league or tournament match.  The multicolored mesh leafs on both colorways tie the two dresses together for a cohesive doubles outfit.
Lastly, some tennis players really love dresses and some really love the tank/skort combo.  Let's get real, tennis players have all different body types so why not pick the style that doubles partners are each comfortable in? So I picked out two outfits that have a matching pattern and color which creates a fun twist on the traditional doubles uniform.  EleVen has some great colors and patterns to mix and match with.  Throw a taller player into the EleVen Women's Fall Geo Love Dress and the shorter player in the EleVen Women's Classic Geo Love Tank  and EleVen Women's Classic Flutter Skort for a super fashionable doubles matchup.
Hopefully, this will give all you doubles players out there some fresh and new ideas for doubles outfits for your upcoming seasons or tournaments.
Ad Out,
Brittany
PS- I would like to thank my partner in crime Siobhan for being a very lovely model.
Posted on October 24, 2012 in Racquets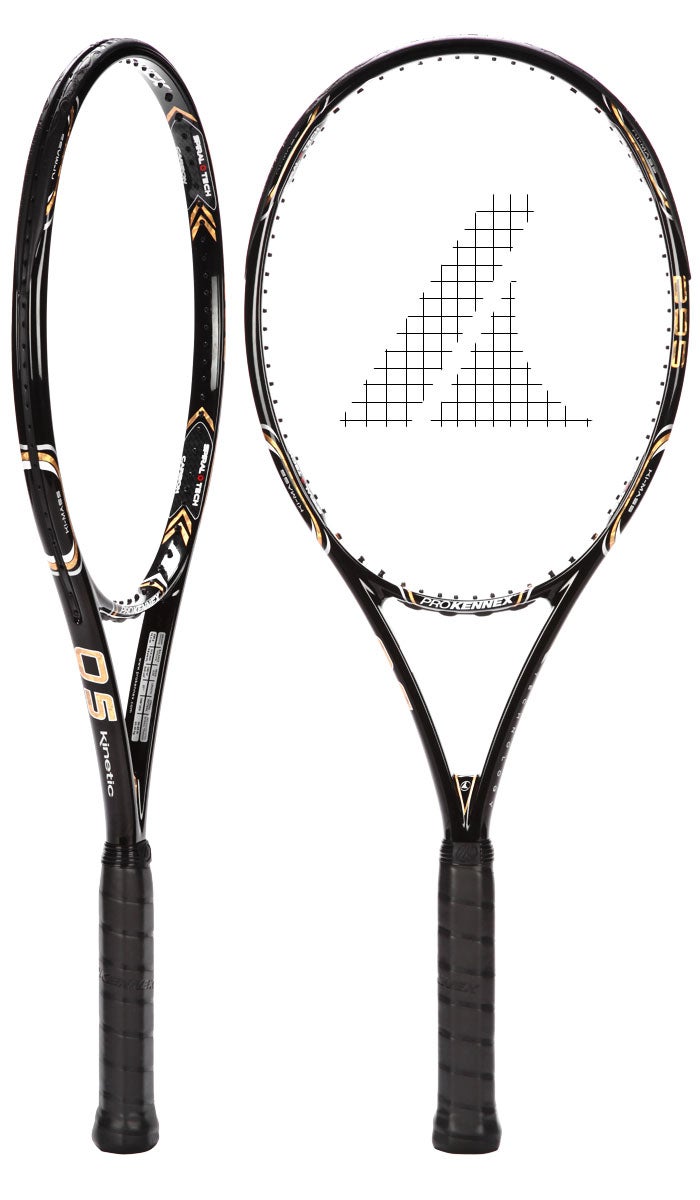 ProKennex might not be one of the biggest names in tennis racquets these days, but there are plenty of fans of its arm-friendly racquets. Count me among them.
I've long been a fan of ProKennex, going back to my high school days when I swung the heritage edition of the Silver Ace. I'm always excited when a new offering comes into the office. I liked the Black Ace 98, and although I think it swings much more easily than it's 11.7 ounce strung weight might suggest, it's still too much racquet for me. So when the new Q5 racquets arrived I was more than happy to pick them up and take them out for a hit.
I started with the 315g version, but as one would guess, it is also a little bit too much racquet for me to handle consistently. I put that one down and began playing with the 295g version. This is right up my alley, and I've been hogging our sample racquet since that day.
At 11 ounces strung with a slightly head light balance, this one swings just right for me. I can whip it around when needed, and it comes through with the power of something like two of my favorites, the Babolat Pure Drive and Donnay Formula 100.
Like the Formula 100, the Q5 295g offers a more arm friendly feel compared to many similar, competing racquets. ProKennex has made a name for itself with its Kinetic technology, saving the arm of many a tennis player. In the Q series, the racquets feature Quad Kinetic technology, placing the Kinetic technology at the corners of the racquet. According to ProKennex, segmenting the Kinetic housing in the four locations optimizes the power of the racquet and the arm-friendly benefits of Kinetic.
I've been playing with the Q5 quite a bit when not testing racquets or strings, and it's quickly becoming one of my go-to racquets. On groundstrokes, I am definitely noticing a bigger punch on my shots. It's especially noticeable on my forehand, where I struggle to create as much pace on my own. At net, I like the feel. It's crisp when hit cleanly, allowing me to place the ball (or as well as I can up there!), but it's not jarring on off-center hits (bonus, since I do this a lot at net). Probably what's best for me is that I feel confident with this racquet in my hands, and confidence always help on court. I've been hitting this with a crisp multi at 59 lbs, but I'm ready to turn to our string guru, Jon, to see what other ideas he might have up his sleeve.
If the Q5 295g sounds like a racquet for you, you can demo one today!
Happy Hitting!
Tiffani, TW
Posted on October 22, 2012 in Shoes and Apparel
Under Armour has the performance that's going to please any tennis player with its lightweight performance HeatGear fabrics, but it also has style options to suit just about any taste.
Keepin' it classic
For a solid look, go for the Under Armour Men's Fall Zone Crew, available in white/black and red/black for $32.99. It's made of a micro mesh fabric and offers anti-odor technologies. Pair that with the Under Armour Basic Flex Short, available in black/white or white/black at $29.99, for a look suitable for the court or gym. The short is a great lightweight choice, and you'll get plenty of use out of it because it's not going to clash with anything you have in the closet.
Go wild
If you like to make a statement with your clothes, Under Armour has pieces to suit your style as well. The Under Armour Emilystic Crew ($24.99) pops in bright colors and splashes the UA logo proudly. The bonus of this top is that it's a performance piece that sports the casual look of a t-shirt. Turn up the volume even more by pairing that top with Under Armour Fall Print Multiplier Short ($37.99). The black/red print of this one will draw attention wherever you go.
The warm factor
When it comes to designing outerwear that works just as well for tennis as it does for life off the court, Under Armour nails it. If you're a track jacket kind of guy, don't miss the Fall Strength Jacket ($59.99). This is a middle weight poly tricot jacket that is going to keep you warm even on the chilliest fall days and will work great in mild winter climates. The Fall Microfleece Jacket ($54.99) is lightweight but keeps your body heat trapped inside. It's great on its own for fall and is thin enough come winter if you need to add more layers to keep warm.
So there you have it. Lots of style. Lots of performance. And many options to last you through the colder seasons. Be sure to check out everything we have to offer in men's Under Armour styles.
Happy Hitting!
Tiffani, TW